Posted by Jason on Feb 19th 2017
Well Known Harley-Davidson® Logos

The text books tell us that a logo is a symbol or a design adopted by an organization to identify its products as being separate from others. It's not merely an effort to brand, it's an effort to define the identity of a company in its most basic form. A successful logo, when seen, is instantly associated with the company. Here are three very successful logos that you will instantly recognize.
Because Harley-Davidson® is one of the most widely known motorcycle producers in the world, it's no surprise that its logo is so well known. It's also no surprise that the logo is a critical element in the marketing of not only the motorcycles, but for all the ancillary Harley® accessory products we enjoy, like the t-shirts, jackets, items for the home, garden, even watches. In fact, most everything you can find in a department store you can also find at a Harley-Davidson dealership. Logoed products, from jackets and jeans to BBQ grills – it's all there.
I'm not sure where to fit this in, but it must be said: A word of caution concerning counterfeit Harley® logo merchandise. Harley® branded merchandise has become so popular, unscrupulous counterfeiters are out there trying to make a buck with cheap knockoffs. Just remember that Harley® dealers can guarantee the product you purchase is genuine Harley®. And everything your purchase from Wisconsin Harley-Davidson® is genuine Harley-Davidson®, or licensed by Harley-Davidson®.When your buy Harley® make sure you are buying from a reputable source.
Back to logos. When you shop Harley® you'll find a variety of logos are emblazoned on the products. There are too many to cover without writing a book, but here are a few of the most popular, along with a brief narrative about them. The most popular and well known is the Bar & Shield® logo. Surprisingly, it has changed very little over the last 117-years. The bar has the words Harley-Davidson, and it sits in front of a shield with the words Motor Cycles. While the company officially assembled their first bike in 1903, the first logo was created in 1910 – and it was this distinctive Bar and Shield so familiar to us today. It's this very logo that is widely regarded as one of the greatest and most memorable logos ever created. Experts in the field say it carries a strikingly macho feel, symbolizing strength, grandeur and ruggedness. To me, that sounds like America!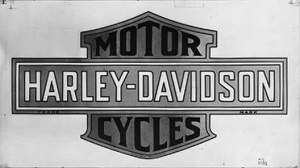 The Bar & Shield® has morphed over the years with the addition of different colors, but the basic shape, a bar with a shield has remained. It wasn't long before the Trademark Bar & Shield® appeared, and then that was followed by other colorful designs. Orange and black has emerged to be the dominate color, probably because of its cheerful energy.
The Motor Company has also created logos to celebrate significant milestones, like major anniversaries. Here are four logos celebrating some of these milestones. The 1953 logo, celebrating 50-years, was elaborate for the time. The 'V' was included in order to honor the type of engine so commonly used in the company's bikes, the V-Twin. A medallion version of this logo went on to appear on the front fenders of the 1954 model motorcycles. You'll notice the ever-present bar and shield is still there. Move forward to the 100 th Anniversary. Anything lasting for 100-years is deserving of profound respect, and Harley® pulled off a winner when they commissioned their century logo. The Bar & Shield® is there, between two important dates, 1903 and 2003. Things got more interesting as wings were incorporated, representing freedom, strength. And once the wings appeared, they were here to stay. For the 105 th, an up-wing design was used. For the 110th, the company returned to a logo reminiscent of the 100 th wing.
This stark white on black version of the classic logo, arguably the most iconic, first appeared in 1965. Through the following years, various and more colorful versions of the Bar & Shield® have appeared. By this time, many dealerships began to incorporate the Bar & Shield® in their dealership logo. Wisconsin Harley-Davidson® incorporates the Bar & Shield®, too.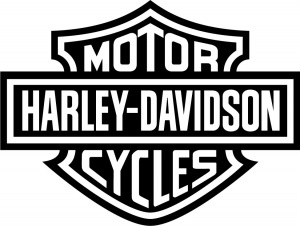 Moving away from the Bar & Shield®, the #1 logo was created to celebrate the 1969 AMA Grand National Championship season title. It was later modified to include stars and stripes. In 1971 Willie G had it incorporated into the dashboard of the 1971 FX Super Glide® motorcycle. Within several decades, the #1 logo started appearing on other bikes, clothing and accessories. Here, being number one and being American is a good thing.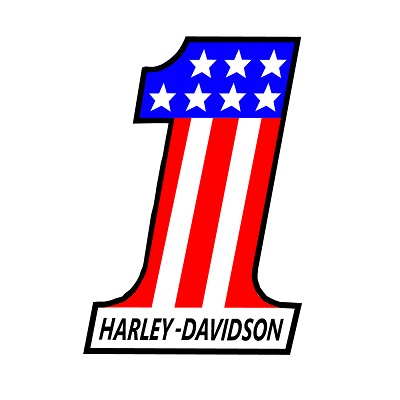 If one person could be singled out as having a profound impact on Harley-Davidson®, that would be Willie G. Davidson, grandson of co-founder William Davidson. Known as just Willie G, in 1969 he was promoted to Vice President of Styling, where he shined. He approved motorcycle designs and developed graphics. His most popular graphic was developed for the 2000 Daytona Bike Week. That was the skull with the eerie Harley-Davidson Motorcycles font surrounding a skull. Almost overnight, it became and still is a favorite among Harley® enthusiasts around the world.
Another important logo is the Screamin' Eagle® logo. Harley-Davidson® is known for its performance and the Screamin' Eagle® logo was developed as a branding effort for Harley's® performance parts manufacturing and sales unit. It's the name sake of the US Army's 101 st Airborne Division (Air Assault), known as the Screaming Eagles. Can't do better than that. In 1999 Harley® introduced the Custom Vehicle Operation (CVO) program to make unique, highly individual and customized motorcycles. Out of that came the Screamin' Eagle performance parts program and the distinctive logo.

The Harley Owners Group, colloquially known as HOG, uses the following rather impressive logo. Created in 1983 in order to build and maintain lasting relationships between Harley-Davidson and their customers, you can find HOG chapters all over the world.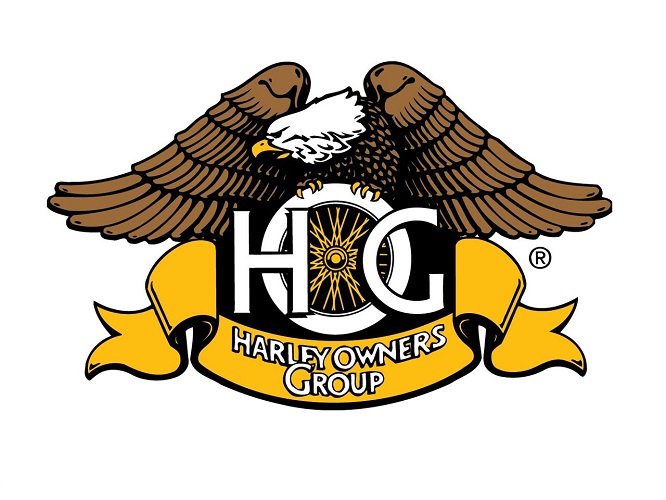 There is a plethora of Harley® logos in existence today. Central to all the logos is the idea that the logo images have a symbolism that comport with the ideal Harley® image. Motifs like these go back thousands of years. And the eagle has been there all along. Roman Legends carried the Roman Standard, which included an eagle, as their armies marched across Europe in the first century AD. Here too, the Harley® bald eagle represents American patriotism, strength, tenacity, and fearlessness. It is no surprise that it is present in many Harley® logos.
It's difficult to pin down when the Genuine Harley-Davidson Motor Oil logo was first used, but probably dates back to before WWII. It was used to brand Harley's® five gallon container of oil. Today, it is featured on many products. In the early days, Harley® didn't trust alternative sources for their oil, so they formulated their own. They still formulate oils specific for their motorcycles today.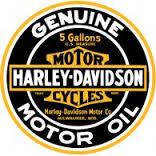 Another logo that has been popularized in recent decades is the use of only a silhouette of the now famous Bar & Shield. It's sometimes referred to as the "open Bar & Shield." The shape has become so iconic, that words are not needed. Just the outline is enough for understanding.
In summary, you will find all the above logos, and many more, on various items for sale at Wisconsin Harley-Davidson®. You'll find them on coffee cups, t-shirts, sweatshirts, dress shirts, leather jackets, vests, tin signs and other artwork, including décor items for the home, bar, and garage. They are incorporated into jewelry, Bulova® watches, footwear, and men's and women's clothing accessories like sunglasses, hats, purses, wallets, etc. The road to everything with a Harley-Davidson® logo goes straight to Wisconsin Harley-Davidson.com. Remember, beware of the counterfeiters.