Posted by Jason, who lives in the Black Hills of South Dakota on Jan 22nd 2019
Believe it or not, Valentine's Day was an outgrowth of some very dark days in 3rd Century Rome. It seems that Roman solders were not allowed to marry. According to several written accounts, a Christian priest named Valentine was imprisoned for ministering and performing weddings for Christian soldiers, the religious group still being persecuted under the Roman Empire. While in prison this priest performed a miracle, restoring the sight to a young woman. Before he was executed, he wrote a letter to her and signed it, Your Valentine. He was eventually sainted by the Catholic Church, and today we know him as Saint Valentine.
On the brighter side, today, The Feast of Saint Valentine is a day which has significant cultural, religious and commercial celebrations focusing on romantic love and affection. We all learn at an early age that the day is special. Remember your early elementary school project, pasting hearts and asking your female classmates to be your Valentine? Of course - such fond memories.
I asked our resident fashion expert at Wisconsin Harley-Davidson to recommend several items that might be welcomed gifts from a women's perspective. Below you will find them. A short description is included. Just click on the image if you are interested.
Happy Valentine's Day!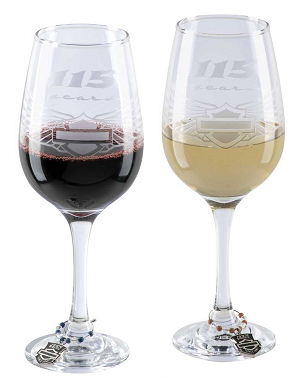 Harley-Davidson 115th Anniversary Wine Glass Set, Set of 14oz. Glasses HDX-98702. Set of two 14 oz. wine glasses. Etched H-D® 115th Anniversary graphic on front. Set includes two wine charms with pewter medallions featuring 115th Anniversary graphic. One charm features blue beads, one features tan beads. Dishwasher safe. Toasting you affection has never been so much fun.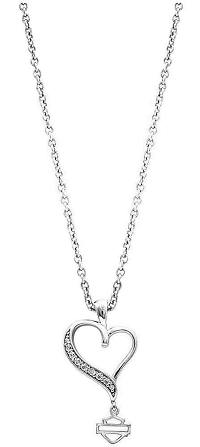 Harley-Davidson Women's Necklace, Embellished Rebel Heart, Silver HDN0315-18. This necklace is hand-crafted with the highest attention to detail and quality, utilizing the finest materials. Features a beautiful white crystal embellished heart with a hanging outline Bar & Shield logo. Sterling sliver necklace. Size: 18'' adjustable chain. To touch one's heart, jewelry is the answer because it is personal.
Harley-Davidson Women's Gray H-D Jacquard Cotton Satchel Purse GJ9025J-GRYBLK. Part of the Gray H-D™ Jacquard Collection. Features secure top zippered pocket. Both stylish and functional, this purse gives you plenty of room for all of your must-haves with the bonus of an adjustable & detachable shoulder strap. Beautiful purse to add to your collection. Constructed from gray and black yarn-dyed H-D jacquard made of a cotton-poly blend then jersey backed and trimmed with smooth black leather. Shiny nickel Harley-Davidson logo plate, pyramid-shaped rivets and signature hanging charms. Poly blend red dagger lining. Size: 14.5" L x 9" H x 5" D. Think of things she might not buy for herself.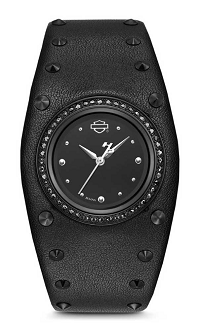 Harley-Davidson Women's Studded Leather Cuff Stainless Steel Watch, Black 78L128. For Her! Features 48 stunning hand-set jet-black Crystals from Swarovski® set on case. Open Bar & Shield logo at 12-hour mark. Silver-tone second hand with signature H-D® counterweight. Black ion-plated stainless steel case. Screw back. Conical metal studding on black leather cuff with buckle closure. Water resistant up to 50m/165ft. Built to endure, whatever the challenge, Harley-Davidson® Timepieces by Bulova reflect the uncompromising pursuit of excellence of two of America's most honored companies. Founded in Milwaukee in 1903, Harley-Davidson continues to produce the world's most acclaimed motorcycles. Bulova, established in New York City in 1875, enjoys international renown for timepieces of superior quality and precision. Drawing on more than 200 years of exceptional craftsmanship, these proud American companies have joined forces to create a collection of watches with the strength, style and durability worthy of both great names.<p>Face Color: Black, Band Type: Strap, Band Material: Leather, Case: Stainless Steel, Dial Type: Analogue, Construction: 50m/165 ft (5 ATM). 2 year warranty through Bulova. Trendy with the a Harley vibe.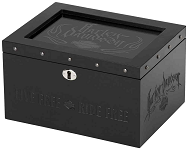 Harley-Davidson Live Free - Ride Free Wooden Jewelry Box, Velvet-Lined HDX-99114. Wood jewelry box with black finish features sandblasted glass lid with chrome stud accents and lock. Laser engraved artwork on front and sides. Includes velvet-lined removable tray. Dimensions: 9.4" W x 5.4" H x 7" D. Each time she opens this box, she'll remember you!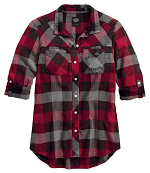 Harley-Davidson Women's Black Label Roll-Tab Sleeve Plaid Shirt, Red 99110-17VW. Made of 100% cotton twill with an acid wash. Flattering longer length. Button front and cuffs. Two chest pockets. Convertible roll-tab sleeves. Metal Harley® clip on back collar. Distressed printed graphics on left pocket. Women's Black Label Core Collection. This line is compiled of silhouettes, fabrics and colors that have historically been solid Black Label performers. The Women's Core Black Label Collection embraces global styling using subtle graphics, a slimmer fit, colors and patterns. Features a Slim Fit that is narrower throughout, if you prefer a little roomier fit we recommend that you size up. Sizes from Small to 2X-Large.
-*-*-*-*-*-*-*-*-*-*-*-*-
The staff at Wisconsin Harley-Davidson wanted to be sure that I included a personal note to all the men out there: Never pass up the opportunity to show affection to your lady - relationships in life, that's what's it all about, after all.