Posted by Jason, who lives in the Black Hills of South Dakota, on Jul 5th 2018
AUGUST 3-12 / STURGIS, SD
It's that time of year again. August is approaching. For many of us, we're starting to feel that pull that Roy Neary felt in "Close Encounters of the Third Kind." But instead of Devil's Tower, we're heading to the next best thing to a "Close Encounter", and that's the Sturgis Motorcycle Rally® in the Black Hills of South Dakota and Wyoming - the fun place to be in any August in the USA. If you want to catch up on the history of the Sturgis Rally®, scroll down to last year's BLOG on the Rally. It's a good read. But for now, let's review the goings-on for Sturgis 2018®.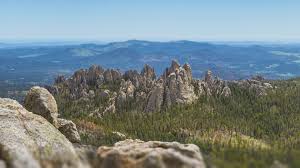 We know it's going to be big again this year, with predictions of over 500,000 riders and concert fanatics. Riders will be visiting all their favorite locations in the Black Hills and beyond, like Mount Rushmore, Crazy Horse, Devils Tower, Custer State Park, and the Badlands. This area has some of the most scenic riding in the country. For 10 days and nights you find some of the best motorcycle riding to be had anywhere. You'll also find some of the best music in the country. From local, home-grown bands to up-and-coming regional acts to full-blown, national concerts, Sturgis has it all.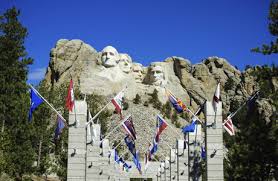 South Dakota is a force that beckons. You might resist it, but sooner or later, if you ride a motorcycle, you will want to see for yourself. If you ride, there is something in your very soul that every motorcyclist comes to know and recognize: it's the love of freedom, of living life to its fullest, of never giving in or giving up. Living life at full-throttle is a life well-lived.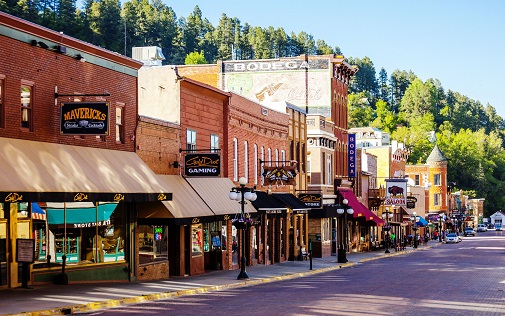 Since riding is what it is all about, this year I thought I would focus on "where to ride." If you are not from around here, it can get confusing. What follows are some of the best riding routes in the USA for motorcyclists. Thanks to Sturgis.com, we have the below routes in map form. You can also find them on the Sturgis Rally® website. During your stay here, reserve one day for walking around Sturgis. But for the rest of your visit, get on the bike and ride on all the other beautiful days you have while you are here. If the sun is shinning, ride, ride, ride. While all of these rides are on paved roads, some require caution and experience with speed. Don't override your skills. Sharp curves are part of the fun, but make sure your speed in the curve is below your experience level.
Central Hills Ride
Rapid City, Mt. Rushmore, Sheridan and Pactola Lakes, Hill city, Keystone, and Rockerville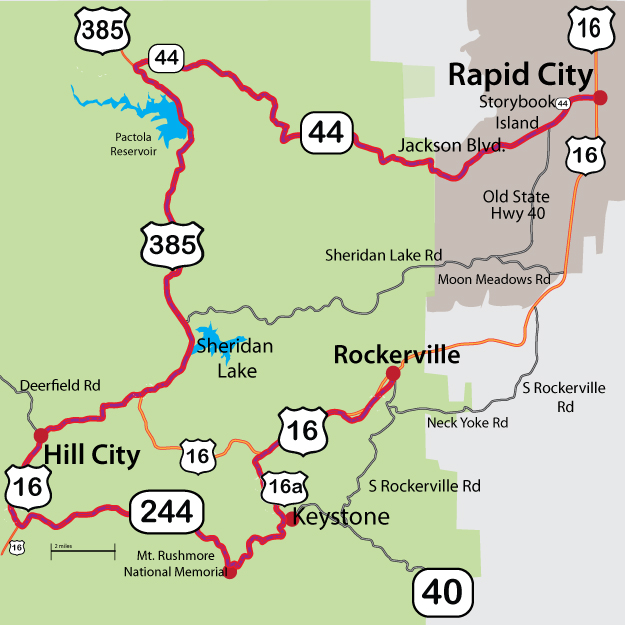 This two-lane 71-mile ride through the Central Hills is a rider's scenic adventure. From Rapid City, it runs over Rimrock Highway, down Highway 385 to Hill City, past Mount Rushmore into Keystone, with a final pass through Rockerville. The entire stretch takes about three hours without stops. That is virtually impossible on this ride, however, because of the many opportunities to take in the scenery, stroll through a town, stop for lunch or dinner, and admire the magnificence of Mt. Rushmore. This is a picturesque ride through the countryside and is full of history. It has many twisties and elevation changes, making it easy to get too deep in the throttle. Keep in mind that the roadside ditches are right next to the roadway, made of granite, and aren't forgiving in the event of an accident. Start at Rapid City, taking Hwy 44 W (Jackson Blvd.) Travel East to Hwy 385 South. Next turn East on Hwy 244 to Keystone and catch Hwy 16 back to Rapid City.
Northern Hills Ride
Sturgis, Three canyons, three waterfalls and 600 curves.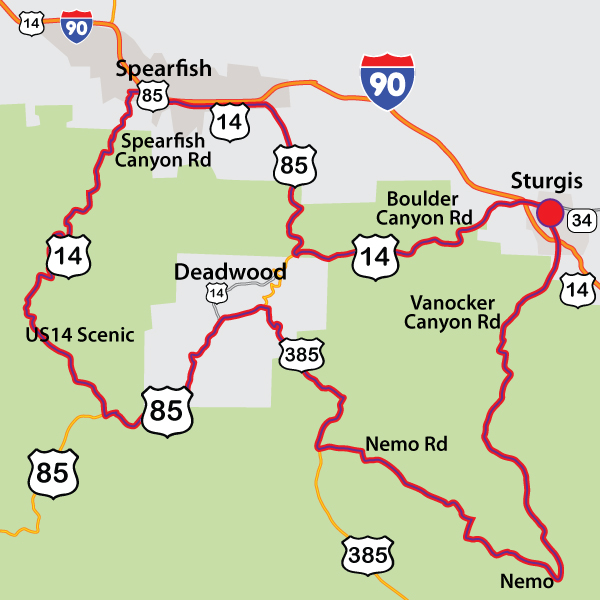 The Northern Hills Ride is locally known as the "Canyon Ride" as it takes you through Boulder, Spearfish and Vanocker Canyons on a 2 ½ hour, 100 mile loop which begins and ends on Main Street Sturgis. According to veteran riders, this may well be one of the most picturesque rides in the country. If you can't take in all the rides listed in Black Hills Motorcycle RIDES, don't miss the Northern Hills Ride. The diversity of this route is what makes the veteran riders refer to it as one of the best 100 miles of motorcycle riding in the country. Head West out of Sturgis on Hwy 14 (through Boulder Canyon). At Deadwood, catch Hwy 85 North to I90, travel into Spearfish (Exit 14) and take Hwy 14A South, (Spearfish Canyon), all the way down to Cheyenne Crossing, turn left and head into Lead, then turn East on Hwy 385. At Nemo turn North to go through Vanocker Canyon and then back to Sturgis.
Southern Hills Ride
Hill City, Crazy Horse Memorial, Custer State Park, Wind Cave National Park, Hot Spring, and Pringle

The Southern Hills Ride is a beautiful mix of mountains, southern foothills and wide open stretches taking you through three historic towns, three counties, a State Park and two National Parks. The Southern Hills is often missed by visitors because it is a perimeter route, while other more centrally located rides take precedence. As a favorite among seasoned local riders, however, the Southern Hills Ride is one you should not miss. After two hours of riding time, you've just travelled 100 miles of rough, majestic and captivating countryside of the Southern Black Hills. Head South out of Custer on Hwy 89, past Pringle down to Minnekahta Junction, turn East on Hwy 18, to Hot Springs. Turn North on Hwy 87 which will take you clear up to Hwy 16 where you turn West to head back into Custer.
Custer State Park Ride
Cathedral Spires, Needles Highway, Mount Rushmore and Iron Mountain Road.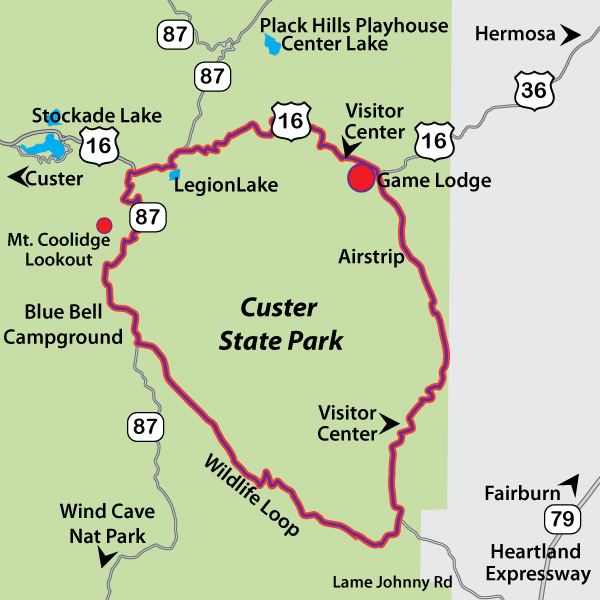 The Custer State Park Ride covers the 18 mile Wildlife Loop Road and is the only ride that stays within the boundaries of Custer State Park. The shortest of the Black Hills Motorcycle RIDES, this trip starts at the State Game Lodge (on Hwy 16), one of three resorts within the park. This stately lodge is on the National Historic Register of Historic Places as President Coolidge made it his "Summer White House" in 1927. The park gained national popularity when Coolidge made a national announcement from the Black Hills that he was not seeking a second full term in office in the election of 1928. Custer State Park is the second largest state park in the country covering 71,000 acres of spectacular terrain. Offering an abundance of wildlife, mountain peaks over 7,000 feet, scenic drives and granite spires, it is a motorcycle riding paradise. While there are places that may test your riding skills on this route, its diversity and easy availability offers a beautiful and perfect motorcycle riding experience.
Badlands Ride
Starting in Rapid City and weaving through old stone pillars and mountains, this ride has moderate turns and climbs taking you through Badlands National Park, into famous Wall Drug, and the South Dakota Air and Space Museum.
There are so many great rides in the Black Hills, the Badlands are often overlooked. Its location on the eastern plains further compromises its availability to Black Hills visitors. This area is so unique, however, it will be on your favorite rides list once you've experienced it. The surreal moon-like topography carved from millions of years of wind, water and erosion has evolved the area into chiseled spires, deep canyons and jagged buttes now known as the Badlands National Park.
Devil's Tower Rider
Sturgis, Boulder Canyon, Deadwood, Lead, Sundance, Wyoming Black Hills, Devil's Tower and Hulett.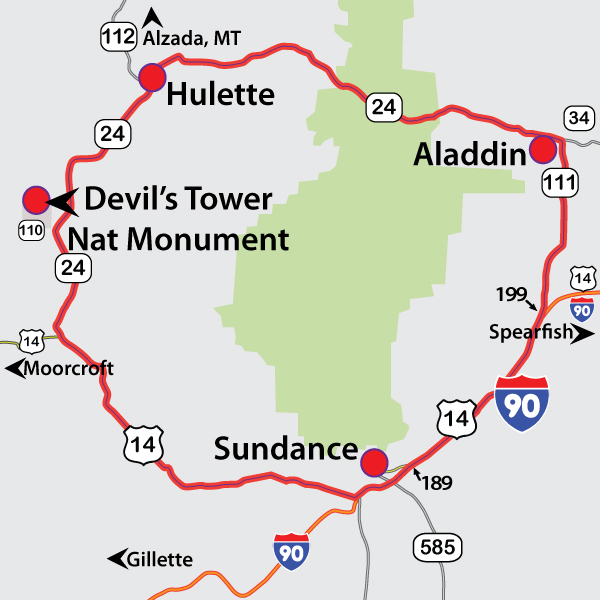 Over 50,000 rally-goers attend the Hulett Ham 'n' Jam which takes place on the Wednesday during Rally Week. Hulett, a tiny town just a few miles from Devil's Tower in Wyoming, offers its own version of the Rally that has grown in popularity over the years. A number of the Ham 'n' Jammers go the extra miles to visit Devil's Tower, the nation's first National Monument. Unfortunately, a greater number of riders return to the Black Hills on the same route they came, missing this incredibly unique part of the Hills. With stops at Sundance, Devil's Tower and Hulett, this ride will take up most of the day. Its attraction is the diversity of the scenery which includes mountains, meadows and the majestic wonder of Devil's Tower. If you are riding the Devil's Tower ride during the Rally, you might want to coordinate your ride with the stops and activities along the way. Regardless of when you ride, you will find this 180 mile loop to be one of the most unique riding experiences in the Hills.
Other Side Trips - With a little work you'll find your way to these great locations, too.
Old Keystone/Hill City
Silver City
Nemo Road
Sheridan Lake Road
Skyline Drive in Rapid City
Black Hills National Cemetery
Check out the Sturgis 2018 website for a rundown of the events calendar, including all the concerts. All your favorite bands will be there. It's packed full of events. But remember to budget your time. You won't be able to do it all.
If you can make it to Sturgis I know you'll love it here. You'll have memories for a lifetime. If you can't make it, take some time and devise your own getaway for a few days. There is nothing more therapeutic than three or four days riding the countryside, no matter where you live. Ride safe and keep the speed down - enjoy the ride. Getting there is really only secondary. But if it is the Black Hills, who really knows what awaits your arrival?