Posted by Jason, from the Black Hills of South Dakota on Aug 24th 2017
What do you think about never having to change a light-bulb again?
Welcome to the world of LED lighting. With the technology of LED lighting, and given the fact that they are made with solid state circuits with absolutely no moving parts or elements, LED lights can, in theory, be used for decades before they will need to be replaced. Yes, that's a strong statement – but it is true. For years and years.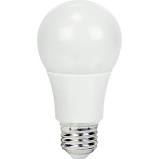 A lot of people complained when the US Government started regulating the light-bulb industry by phasing out US made incandescent bulbs in 2014. With few exceptions, the manufacture and importation of incandescent bulbs is outlawed. Exceptions like candelabra lights under 60 watts, and some outdoor lights exist, but most of what we knew as kids is now gone. Right or wrong, the policy has had profound effects. Without the availability of a standard 100-watt incandescent bulb, for example, I am replacing burned-out bulbs with LED lamps. When I do so, even if they cost more, I tell myself, literally, this is the last time I change this bulb, period - I can live in my place another 25 years and never have to replace that bulb. That is amazing.
So, it is clear that the LED technology has arrived, and arrived in a big way. When you compare LED's to incandescent, halogen, or florescent bulbs, LED's have a monster edge in efficiency. They turn on instantly at any temperature, they are unaffected by cycling on and off, they are virtually impossible to break, they don't emit UV rays that fade colored materials, they radiate almost no heat, and they last virtually forever.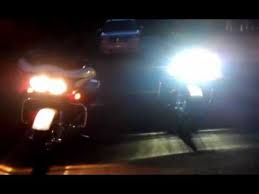 So, once you're convinced that LED lighting is a good thing, it's time to turn your attention to your motorcycle. The process of upgrading your headlights and tail lights to LED's is not too difficult. Remembering the benefits might help push you to do it. It's not that expensive, but more importantly, you will experience better road lighting at night. The major benefit, however, is being seen with an incredibly bright and whiter light than was ever possible with Halogen or Incandescent lights. And being seen, in daytime or at night, will possibly save your life. Look at the difference in this image. Amazing.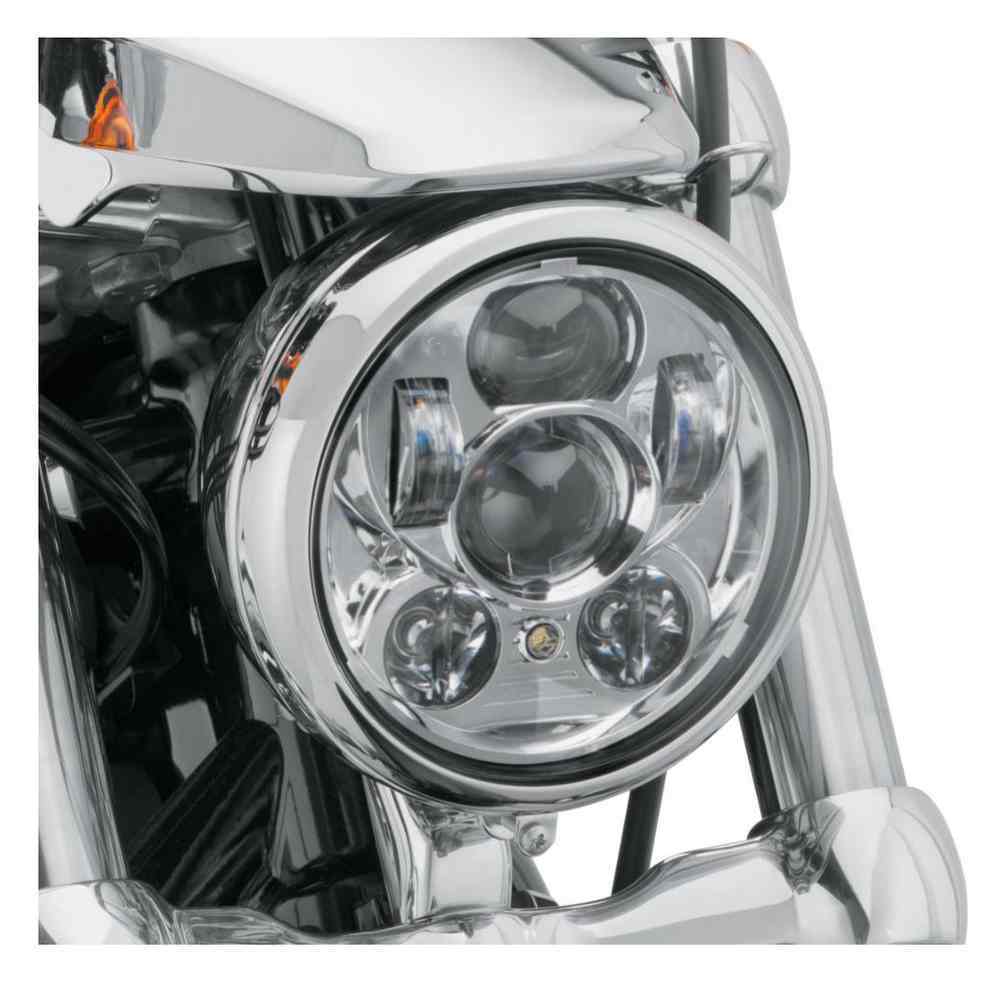 When you decide to make the switch, you will find that there are many choices. Most of the installations are easy enough to accomplish on an afternoon by most want-to-be home mechanics. If necessary, you can go to your dealer to have the work done. LED motorcycle applications vary. LED lights are used on fuel gauges, auxiliary lamps and turn signals, tail lamps, and headlamps. If you are ride a Harley, fitments are available for almost all models, including the Electra Glide®, Street Glide®, Ultra Limited™, and Tri Glide™, Softail®, V-Rod®, Road Glide®, Road King®, and other Touring models. Some Harley-Davidson® 2017 models have LED lights, but most models do not. One of the most popular LED headlights is the Daymaker™, available in both 5.75 and 7-inches. With the Daymaker™ your lamps are brighter and whiter, by far, as compared to incandescent lamps. Compared to halogens' yellowish light – well, there is simply no comparison. Here are some of the major features of the Daymaker™:
• Features a single top-mount low-beam projector lens, a large bottom-mount high-beam projector lens and 2 "D-shaped fill-light lenses
• Horizontal "D-shaped" lenses focus light into a pool in front of the motorcycle, and separate high beam and low beam projector lenses provide a focused beam of light ahead
• Solid-state LEDs are designed for long life, and the shock-and vibration-resistant lamp assembly mounts into existing light housings
• Installation is quick and easy, and the plug-in lamps connect to the factory headlamp wiring
• LED lamps are DOT approved for use in all 50 states
Check out the LED lighting that Wisconsin Harley-Davidson® has in stock for you.
Don't neglect the tail light, either. When you slam on the brakes, you want those behind you to notice – and they will with the LED tail lamp applications you find here.
In summary, LED Lamps are brighter and whiter in color and provide a superior light pattern over standard incandescent lamps. Compared to the yellowish light of a traditional halogen or incandescent bulb, the LED lamp produces a powerful light, both for seeing and for being seen! All the LED lamps offered by WisconsinHarley.com are DOT approved.