Posted by Jason on Oct 24th 2016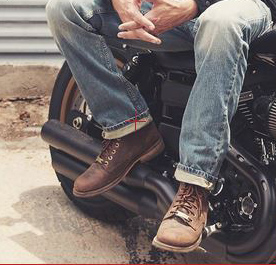 Get a group of Harley riders together and if the conversation turns to their favorite bike model, the opinions will fly. The opinions really fly when talking about helmet styles and the efficacy of even wearing one. While everyone wants to be heard, the lone question, "What should I look for in a boot?" gets ignored. For such an important element in motorcycle riding, it is surprising how little conversation there is about motorcycle footwear.
What we wear on our feet can make or break a great biking day. To start with, let's understand that low-cut, low-quarter shoes or sneakers are out of the question if you value your feet. I came upon a motorcycle accident in Northern California some years ago. While the paramedics were working on the rider, I noticed a street shoe laying on its side not far from the motorcycle, some 20-yards from the patient. I walked over to pick it up and was shocked to find a severed foot inside. Sorry for the graphic description but we need boots, not only for comfort and style, but for safety.
The Work Boot v. Motorcycle Boot Argument
You say you have work boots, and ask, "Aren't these good enough?" Probably not. While work boots are protective, the majority don't provide the increased protection that motorcycle boots can offer. Resist the temptation to save a buck by making work boots do double-duty as motorcycle boots. Use some critical thinking and judgement about just how up to the task your work boots really are. A mangled or missing foot could be the alternative.
Motorcycle boots are functional, made for the task – with lower heels, reinforced toes for shifting, beefed up soles, heavy leather, features for fast lacing, to name a few benefits. With these kinds of features the likelihood of foot injuries will be minimized if you are in an accident.
Motorcycle boots, loosely defined as traditional boots with heavier leather, sturdy heels, and sturdy soles, have a shaft height that extends up and over the ankle – a minimum height would be a shaft of about 5-inches or so.
T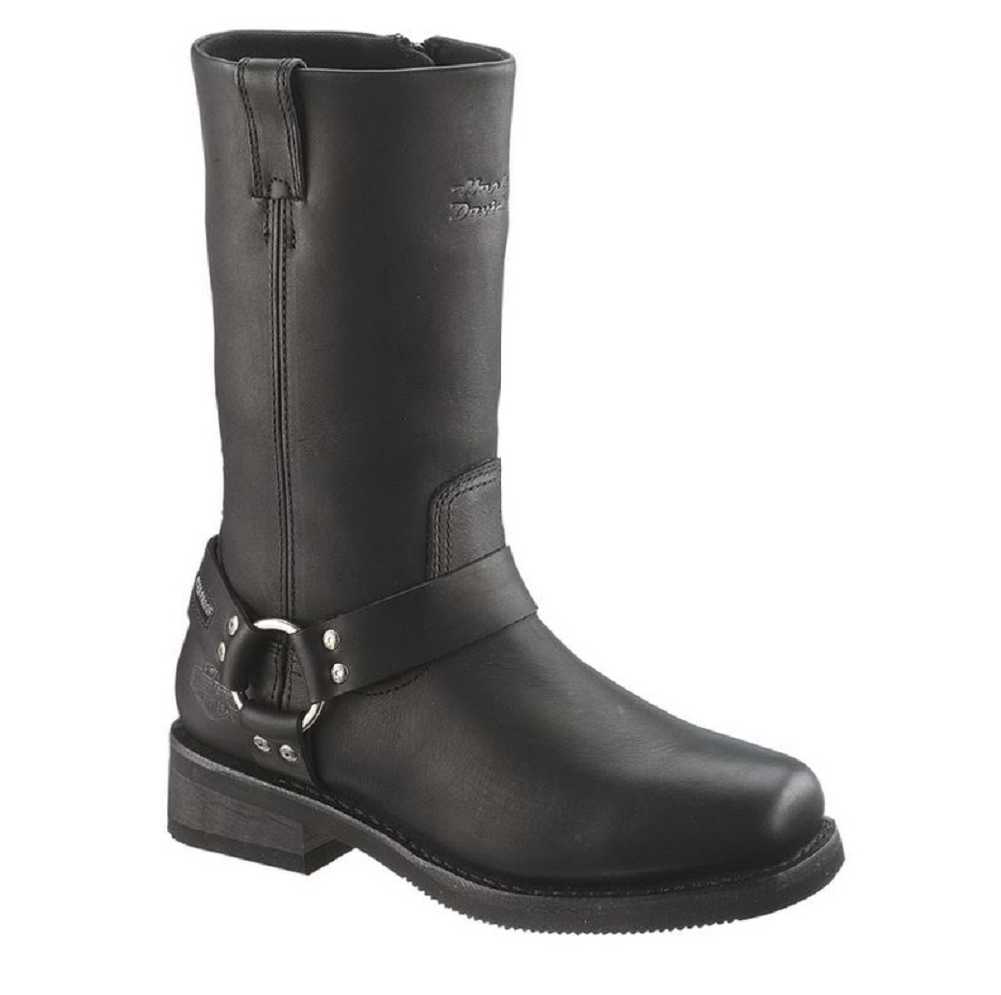 here are many different boot styles available, and they are keyed to the type of riding you do. The broad categories of motorcycle boot styles are:
Motocross Boots - off road riders typically ride fast and hard, all while subjecting their feet and legs to the elements and the varied terrain.
Adventure and Dual Sport Boots - a mixture of the best parts of both on and off-road.
Track Boots - specifically designed for contact with the pavement and for withstanding high impact blows.
Cruiser and Touring Boots - protect the feet, ankles, and legs from impacts; provide protection from the elements and hazards of the road; provide sturdy, non-slip traction upon contact with the pavement; are made for long wear; and typically focus on comfort, ergonomics, protection and weatherproof abilities.
Motorcycle Cruiser and Touring Boots
The focus here will be on boots made for cruising and touring, because that is the type of riding enjoyed by most Harley-Davidson owners. By default, the focus will also be on Wolverine, a boot maker with a highly established long history, who makes all of Harley-Davidson's boots.
Harley boots are best divided into four categories: Performance; Lifestyle; Work; and Black Label Boots, the special design category devoted to fashion and style.
Performance boots are those boots specifically designed for motorcycle riding. There are many popular styles, including the Engineer style, the Harness style, and the Logger style. All are abrasion-resistant, slip-resistant and made for riding motorcycles. We refer to them as Riding Appropriate.

Lifestyle footwear is a separate label because it contains two types of footwear: one suitable for motorcycle riding, and one suitable for casual, off-the-bike wear only. The riding styles are similar to the Performance group. The non-riding styles include low quarter boots, athletic shoes, and sneakers. When selecting a Lifestyle boot, take into account the shaft-height, material, and other features to make sure it's suitable for riding.
Work boots are characterized as heavier duty working shoes, and include boots with steel and composite toe caps. Lower quarter athletic-type shoes and static-proof shoes are in this category, but should be avoided for riding. However, there are a number of work boots that are suitable for motorcycle wear.
Harley's Black Label Boots are work inspired type boots, but because they are for the most part devoted to fashion and style, be selective when buying a pair for motorcycle riding.
So, what features should you look for? Begin by pursuing the glossary of terms at the end of this article and make notations of the features you want. Each feature has its own merit and boils down to personal choice. But remember that to qualify as a good motorcycle boot, it must offer protection which only comes with heavy-duty, thick full-grain or top-grain leather. The boot's shaft must cover the ankle, the higher the better. They must be durable and provide traction. You want a lining that breathes and is comfortable: a full-cushion sock lining is terrific. You want a boot that is relatively easy to put on and take off, which doesn't mean the boot necessarily needs a side zipper. Most pull-on boots have pull straps that ease the task.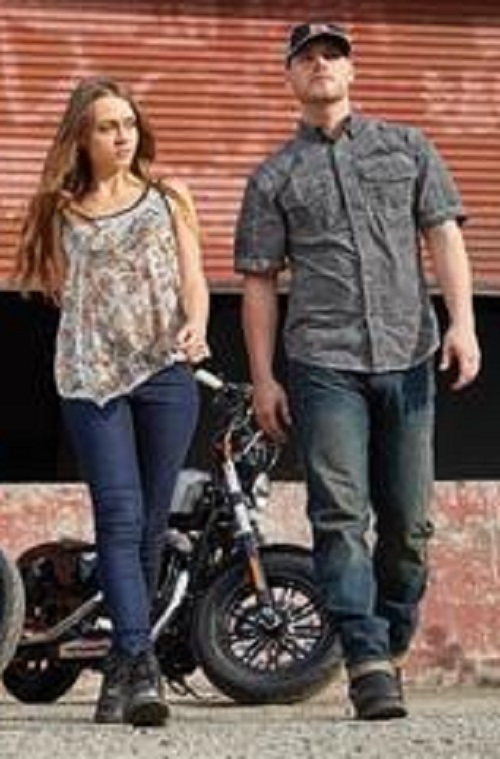 Your boot selection is really a combination of functionality and personal taste. A great motorcycle boot is first and foremost functional, whether it's a harness style or an engineering style boot. Since personal taste is subjective, you might be guided by asking yourself a few questions, such as, is waterproofing really necessary? Do I want a pull-on or a zippered boot? Is reflectivity important - do I ride at night? As for fashion design, all the boots Harley offers have some degree of stylistic embellishments, like logos, metal badging, logo eyelets, etc. Since some boots are more embellished than others, women might prefer the ones with more bling. Embellishments can be functional, too, like reflective logos and logo speed lacing. Look for things like extra layering on the toes, and whether you like the toes round or square. Consider boots made with Goodyear Welt construction, the best method available, but modern cement construction processes are rock solid and offer flexibility for an easier stride (and they are sometimes less expensive).
Purchase and Breaking in Your New Boots
Shop for boots at wisconsinharley.com. Below are some tips on breaking them in.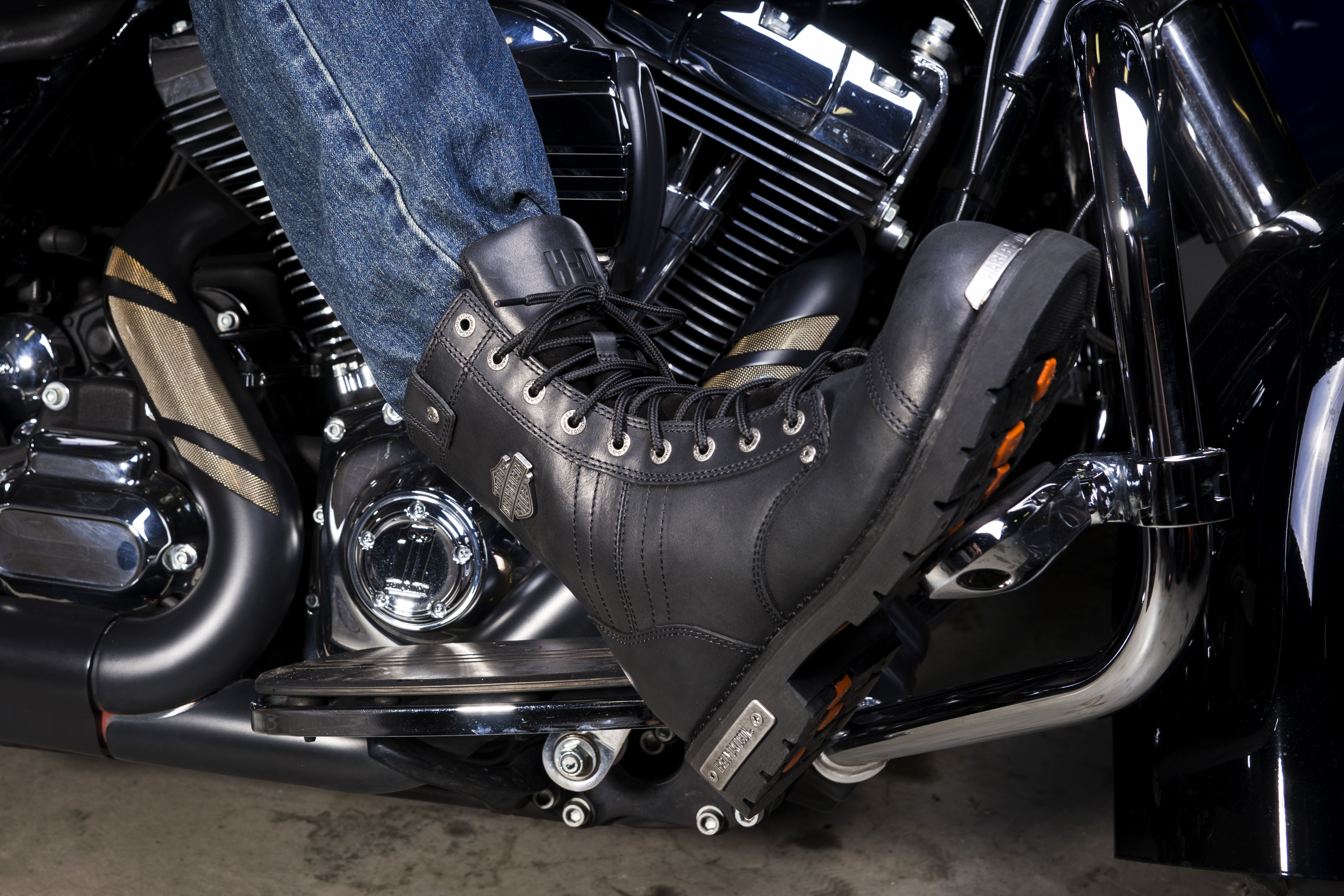 Once you receive your boots, put them on an walk around. Do they feel comfortable?
Toes should have some wiggle room. If they slightly touch the front of the boot, that's okay as long as your toes are not pressed up against the boot.
It is okay for the heels to slip a little, but not much. Any more than ¼-inch might be too much.
There should be no pressure points.
New boots will feel stiff, yet they should also feel comfortable.
A pair that is slightly loose is better than a pair that is too tight.
If all is okay, it is now time to break them in. Wear them around town, around the house, or when running errands. Give them a week or so to mold around the particulars of your feet.
In the end, you really can't make a mistake by selecting a motorcycle boot for riding your bike. Once you decide that's the way to go, it's just a matter of selecting a boot with the functions most important to you and a design that suits your personal taste. Have a great ride. Have a safe ride.
HIGHLIGHT and PRINT the below Glossary as a checklist:
| | | |
| --- | --- | --- |
| | Anti-Static | Resistant to electrical hazards |
| | Breathable | Made of materials that allow air flow |
| | Cement Construction | Where the insole and the sole is attached with adhesive under high pressure, affording lightweight comfort. and a more flexible stride |
| | Composite Toe | ASTM F2416-11 M i/75 C/75 EH compliant – composite toe caps offer crush protection |
| | Cordura | An extra durable fabric |
| | Counter | The part above the heel that wraps around the foots heel - often simply referred to as the heel |
| | Distressed | Boots that have a one of a kind distressed look |
| | Engineer Boots | Made for motorcycle riding – typically with rounded toe with shafts from 10-inches to 18-inches or more, and with adjustable front cross straps. |
| | Flexvent | Allows easier movement via extra material hidden above the heel |
| | Full-Grain Leather Uppers | Thick leather; long lasting, durable, water resistant on it's own; not sanded or split |
| | FXRG | Functional Extreme Riding Gear by Harley-Davidson® |
| | Goodyear Welt Construction | A strip of leather or heavy material that runs along the perimeter of the boot's outsole - provides superior lateral stability |
| | GoreTex | Waterproof and breathable lining |
| | Harness Boots | Made for motorcycle riding, with shafts 10-18-inches or more with non-adjustable straps fastened to metal O-rings |
| | Heel | The part of the boot that touches the ground at the rear of the boot |
| | HydroGuard | Waterproofing |
| | Insole | That part of the sole on which the bottom of the foot rests |
| | Lining | The inside of the boot, that part that comes in contact with the foot |
| | Lug Soles | A heavy sole with larger tread elements for improved traction in all situations |
| | Mesh Lining | A breathable lining |
| | Metatarsal Guard | Protects the metatarsal area of the foot |
| | Midsole | That part of the sole that is inbetween the out- and the insole |
| | Motorcycle Boots | An inclusive term for boots made or adapted for motorcycling, including engineer, harness, police patrol, tactical, motocross, logger, and lineman boots. |
| | Non-Metallic | Security friend, non-metallic footwear, undetectable |
| | Oil Resistant | Boot will not be damaged when exposed to petroleum products |
| | Outsole | That part of the sole that touches the ground |
| | Poron XRD | Extreme Impact Protection |
| | Reflective | Reflects light, especially at night, for enhanced safety |
| | Removable Dual-Density Polyurethane Footbed | A footbed ideal for heavy-duty footwear, provides a higher comfort level and affords better insulation against cold and/or heat. |
| | Shaft | The length of the boot measured from the top of the heel to the cuff |
| | ShockAbsorbers Comfort | A compound encapsulated in midsole and footbed that cushions the foot from impacts and retains absorption properties for extended performance |
| | Sock Lining | A footbed lining and is comfortable |
| | Steel Toe | ASTM F2416-11 M i/75 C/75 EH compliant – steel toe caps offer crush protection |
| | Taibrella® | A moisture-wicking synthetic fabric for dryness |
| | TecTuff | Highly abrasion, oil, and stain resistant material |
| | Thinsulate | 3M Thinsulate helps to trap body heat |
| | Vamp | The upper part of the boot that covers the metatarsals, rising up to bottom laces |
| | Vibram Soles | Soles that provide optimum traction, comfort, and performance |
| | Work Boots | Broadly -includes any type of boot that is worn for physical labor work in various settings, including construction sites, skilled trades, factory floor, or around the home |
| | YKK Zippers | YKK locking zippers mean easy on/off |