Posted by Jason, from the Black Hills of South Dakota on Apr 8th 2017
This BLOG edition is aimed at those of you who have recently purchased your first Harley-Davidson Motorcycle. If you are like many of us, it was truly a thrilling day to ride your bike home from the dealership. If you are a novice rider, you probably took a motorcycle class t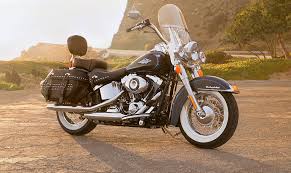 o learn the basics of motorcycling safely. If not, consider it. And now you are out discovering what that phrase, "Live to Ride," really means. As the weeks roll by, you notice a flyer at the dealership or in the newspaper announcing a motorcycling event. Maybe it is an annual ride to celebrate the start of a new riding season. The point is, you go. When the ride ends, the streets are lined with hundreds, if not a thousand motorcycles. As you walk down the line of bikes parked along the curb, you soon realize that your bike doesn't look at all like the others. Even if it is a beautiful Softail, it looks sort of plain vanilla next to everyone else's. Now you realized you need to brand your bike even more than Harley did at the factory. You need to make it yours – something that reflects you. This is the place to start that process.
Harley-Davidson understands exactly what you went through (or are going to experience) on that first organized riding event. That is why they have a full catalog of accessories that will make your bike look different, just like you are different from everyone else. You can also find most of the customizing themes and parts at WisconsinHarley.com.
You can start by reviewing the various accessory themes Harley has created for you. You'll want to approach this project with some serious thought. You don't want to end up with a hodgepodge of different accessory design themes that don't match or go together. Harley has done a great job creating a number of themes you can use in your accessorization project. Some of those themes are shown here, but there are more. If you are handy with tools, you can probably install most of these accessories yourself, but be careful not to overreach.
Decide on your theme and stick to it. And, don't assume you have to use every single customized themed part, either. Here, sometimes less is best. Some of the more popular themes include Willie G's famous skull logo designs. The most well know is the "Live to Ride, Ride to Live" theme, both in gold winged highlights or straight chrome. The H-D Motor Co. theme is distinctively different. There is also a circular Harley-Davidson Motor Co. design, as well as a Flaming Bar & Shield. Find one you like, and stick with it. Things that you can make different include handlebar grips and end caps, timer covers, air cleaner inserts, derby covers, axle nut covers, engine and mid-frame trim, fairing and front end trim, rear end trim, tank caps, console covers, medallions, mirrors, and so much more. The below items are thematic. The page takes you to a particular part with a particular theme. Remember, the theme includes many, many accessory parts. To peruse the entire collection, click here.
Not all accessories have themes. For example, you may like a different style of saddlebags. You might also look to other manufacturers for ideas and products. After all, Harley-Davidson motorcyclists are an inclusive bunch. Also remember that customizing your bike is an artful enterprise. When you finish, you don't necessarily have a customized bike - you'll have a piece of art. As the years pass, it'll be your bike that novices will look at when they finish their first organized ride. Make an impression.
One final comment. You can have the most customized bike in town, but take time to get to know your fellow riders. The joy of Living to Ride really comes with the association you will develop with other like-minded bikers. They'll soon be your riding pals, and before long they'll be intimate friends for a lifetime. You'll actually be adopting a family. You'll get invitations to weddings and birthday parties, to baptisms and graduations. Take time to develop those friendships because, in the end, it's not the destination, but the fun you have riding with friends that gets you there.