Posted by Jason, from the Black Hills of South Dakota on Jan 28th 2018
Since we are going to talk about motorcycle helmets, let's get the grim stats out of the way right off the bat. A recent study out of the University of NSW in Australia showed that helmets reduced fatal head injuries by about 65 percent. Our own CDC quotes similar statistics. With that said, I'll not get too preachy about the safety benefits of wearing a helmet. The stats are there.
The efficacy of wearing a helmet was first established in 1935 by the neurosurgeon that attended T.E. Lawrence, following his fatal motorcycle accident. T.E. Lawrence came to be known as Lawrence of Arabia, based on his exploits as a British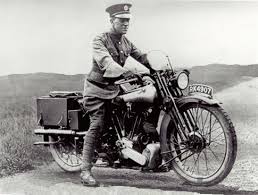 Officer in World War I. He was also a well known scholar, a writer (Seven Pillars of Wisdom), and a motorcycle lover. Lawrence was killed, unfortunately, in an over-the-handlebars accident. The neurosurgeon opined that his death could have been prevented if he were wearing some sort of head protection.
As the decades rolled by following Lawrence's death, helmet safety improved to that of today, with internal, energy absorbing liners, floating inners suspension systems covered by a hard outer shell, chin strap, etc. [Ethan Knox, Helmet Safety Ratings 101].
So today, the question is not should I wear a helmet, it's what type of helmet should I wear? The first thing to consider and understand is that over the course of your riding years, you are probably going to have several helmets in your wardrobe. The kind of helmet you wear will, in large measure, depend on the kind of riding you do. And if it's varied, you'll have a variety of helmets from which to choose, depending on what kind of riding you are doing. The helmet you wear on a 4-hour freeway trip is different from one you might ride to and from work in an urban, heavy traffic environment. Fortunately, there are helmet designs that fit into most any outing.
First, the helmet must be rated for safety. All the Harley-Davidson helmets are safety rated, so there is no question regarding quality. They are the best available. If you move outside the Harley brand, be sure they are approved by a recognized rating agency, like DOT (US Dept. of Transportation), ECE (Europe) and SNELL (Snell Memorial Foundation).
Helmet Design Styles - Full, Open, Half, Modular
Full-Face Helmets – (Above, left). The best available, giving maximum protection to the entire head, including the jaw and chin area. Most have shields to protect the face from flying debris, and most of these shields protect from harmful UV rays. Full-face designs are great for all riding styles, especially for cruising and touring. Depending on the specific style, the full-face helmet can limit peripheral vision to some extent, which makes them less desirable in heavy urban traffic. Something approaching from the side might be blocked by the helmet.
Open-Face Helmets – (Second from left). This style is a compromise between half-helmets and the full-face helmet. They protect the entire head but offer no protection to the chic and jaw area. The benefits? You don't feel as claustrophobic, or restricted as compared to the full-face. They will be a bit more wind in your face, even with a shield, which are relatively common. Without the chin bar your downward visual field is opened up. For example, you don't have to actually move your head to look at your speedometer as compared to a full-face helmet. They are great for touring and even better in an urban environment.
Half-Helmet – (Second from right).Half helmets, known as beanies or shorties, provide the least protection, protecting pretty much only the cranium. The cheeks, jaw, chin, and the sides of the face are exposed. They are cool in hot weather, and restrict peripheral vision the least. Most have visors or sun-shading. They are great for urban environments. Wearing a half-helmet means you are meeting the minimum standard for safety.
Modular-Helmets – (Above, right).Meet the helmet that allows you to enjoy the benefits of the less restrictive Full-Face helmet, and the open feeling of an Open-Face helmet. These helmets are modularized, so that you can flip-up the chin bar for more visibility. With the chin-bar flipped you can enjoy the scenery on the back roads, then put the bar down when you hit the freeway for a quick return to he city. Simply put, you get the best of both worlds with modular helmets, maximum protection with an option to see more of what is around you.
Caring for Your Helmet
You should care for your helmet like you might care for a fine set of china. When you are not wearing it, a helmet needs to be protected and kept clean. Store it in a helmet bag, and when riding wear a head-wrap. Remember, don't allow it to bang around in the garage or on the floor in your closet. Helmets can be damaged if mistreated, and damaged helmets could compromise their performance in an accident.
Buying a Helmet On-Line
Buying online is easy, fast, and many say the prices are better. Like many stores, you can't return a helmet later for a refund. Most sales are final. In a store you do get the benefit of trying it on before you make the purchase. That is not true online, of course. In either case, probably the biggest reason someone wants to return a helmet is because of sizing. This is a hurdle you have to overcome. In a store, it's easy. Online, not so much. It's not like a jacket or shirt that can be exchanged. So, before purchase you must know the size you select is actually going to work for you. Unless you know with certainty the size you want, it is best to try on helmets at a dealership. If you already have a helmet that fits, then go with that size. If you are new to the brand, always try it on in a brick-and-mortar store before you purchase. While some online websites give you a methodology for determining your helmet size like measuring you head with a tape measure, but don't hold the measure too tight or too loose – the process is way too loosey-goosey for the money involved. Sizing is a mistake you don't have to make. Take the time and save money - make the trip to the store to find out what size really works for you.
Now you know the basics. Ride safe, and remember: Wear a helmet, if not for yourself, for your loved ones!