Posted by Jason, who lives in the Black Hills of South Dakota, on Jul 24th 2021
This year's Sturgis Motorcycle Rally officially begins on Friday, August 6nd and ends at midnight on Sunday, August 15, 2021. For this 81st Anniversary of the rally, I hear that the unofficial rally cry will probably be, "Get vaccinated and screw the COVID!" The Rally is expected to draw a record number of motorcyclists from around the world – like-minded people who are tired of politicians trying to tell them what to do.
The official Rally website lists the most favored destinations for daily rides. Depending on your departure location, most of these places can be reached within an hour or so. But throttle back, and take the scenic route. My favorites remain the same, year after year: Needles Highway, Pactola Reservoir, Silvan Lake, Devil's Tower, Bear Butte State Park, Badlands National Park, Custer State Park, Mount Rushmore National Memorial, Main Street – Sturgis, SD (of course), Spearfish Canyon, Crazy Horse Memorial, Iron Mountain Road, Hewitt, WY, Rapid City (City of Presidents), Hill City, Keystone, Custer and Custer State Park, Lead, and Deadwood. If you visit this website, Rally Sturgis, ride maps are available that loop you to and around the most popular rides, including the Mt. Rushmore loop, Devils Tower, Bear Butte & The Badlands, Needles & Crazy Horse, and the Spearfish Canyon Loop. Each route will take the better part of a day, all mapped out and ready for you.
If you want to enjoy some of the best music in the USA, you won't be disappointed. The Rally attracts some of the best singers and bands in the country, with Kid Rock and ZZ Top being to best known headliners.
Finally, enjoy some of the sights via the updated photos below. This is going to be an especially fantastic year. Why? Because we are out and about in South Dakota, free from intrusive governments and barking politicians. If you like, many of us come early and leave early. The vendors generally set-up before the official start date.
Sturgis, South Dakota - Enjoy the crowds and the vendors. Your friends will be waiting for you.
*
*
The town of Deadwood, South Dakota has been around since 1876. It was famous before the TV series and the recent movie. It's fun, and if you like to gamble, there are gaming tables in a number of casinos. Both Wild Bill Hickok and Calamity Jane are buried in the town cemetery - a visit to the gravesite is worth the time.
*
*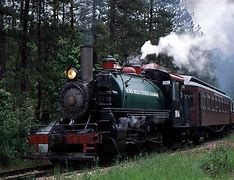 The 1880 Train, runs between Hill City and Keystone. Round trip and one way tickets are available at each end. It takes about one hour each way with an hour layover at each destination for those returning. Park and lock your bike at either Keystone or Hill City and enjoy the ride. Both cities are quaint and popular destinations for both tourist and the locals. The train passes through beautiful wooded areas of the Black Hills countryside.
*
*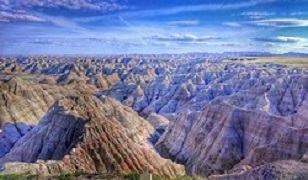 The Badlands - Unable to describe, so I won't try. You have to see it to believe it. If you want to scare yourself, ride through it a night. Spooky.
*
*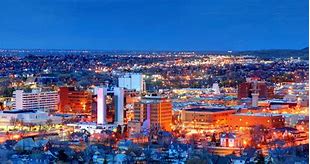 The City of Presidents, Rapid City - A beautiful town at the foot of the Black Hills, known for its series of life-size bronze statues of past USA Presidents, and its nationally recognized Police Department. The Alex Johnson Hotel (old world elegance) is historic, and there are plenty of places to eat in and around the downtown area. In many areas the city reserves parking spaces just for motorcycles during the rally. While you are walking around, be sure to visit the Prairie Edge & Sioux Trading Post. It's an experience you won't forget. It's really a Native American art gallery where you can purchase all sorts of wares made by talented Northern Plains Indian artists.
*
*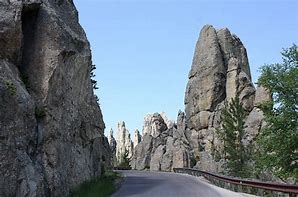 Needles Highway, South Dakota - Twist and turn on one of the most unusual and beautiful highways in the USA.
*
*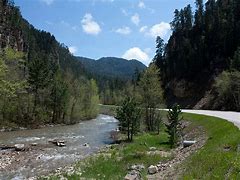 Spearfish Canyon - breathtaking at each turn, going up or coming down the canyon road.
*
*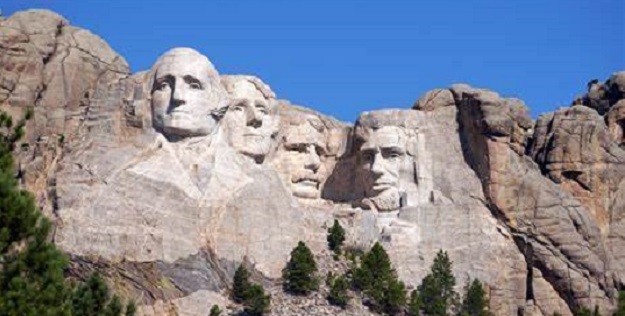 Mt. Rushmore, South Dakota - Magnificent. Take the nature walk, or just look at it. It's so big, you can see it from miles around.
*
*
Silvan Lake, located in Custer State Park - A great place to have a picnic lunch.
*
*
The Crazy Horse Memorial won't disappoint. It is a massive undertaking, having been under construction for years. The Indian Museum has a large collection of artifacts reflecting the diverse histories and cultures of over 300 Native Nations. When finished, it will look like the image on the upper right. The project began in 1948. The completion date is unknown, but it is safe to say it will be years and years from now.
*
*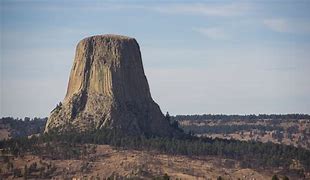 Devils Tower, Wyoming - Immortalized in the movie, Encounters of The Third Kind. It is composed of igneous rock, formed by cooled magma. This is a place to meet your friends. Who knows what other encounters you will experience. Devils Tower was the first US National Monument, established in 1906 by Theodore Roosevelt. It is estimated that it was formed about 40 million years ago. Over the eons, the soft sedimentary rocks and soil around the igneous rock eroded away, leaving what we see today.
*
*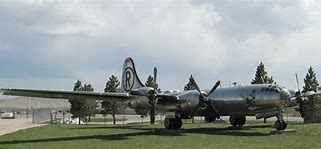 Ellsworth AFB is just east of Rapid City, home to the B-1 Lancer (left above), and soon the B-21 Raider (above, right). The museum is fantastic and has a number of modern and vintage aircraft on display outside, including the B-29 of WWII fame. There is also a B-52 on display. Inside the museum, the exhibits are one of a kind, and there is a gift shop, too.
*
*
Ride safe, and enjoy your time while touring one of the most beautiful places in the world - and that is no hyperbole. One last thing - ride safe, and get home safely. We want you back next year!