Biker Blog
Posted by Jason, who lives in that vast obscurity beyond the city, where the dark fields of the republic roll on under the night (Fitzgerald), on
It's that time of year again. Some people complain: " 'Tis the Season to Be Stressed Out because I never know what to get." Well, If your special person is a Harley rider, things just got a lot easier. Anything Harley will hit the mark - all you need do is find that special thing within the Harley universe of things that might work for your special someone, Mom, Dad, Sister, or Brother.
I've entitled this BLOG The Twelve Gifts of Christmas because we're going to list 12 gift recommendations that might make your Harley person smile on Christmas morning. We'll go through them one by one so you'll have a good feel for what you're getting. We'll review six items for ladies and six items for the gents. Keeping in mind that we all need to budget during the season, I've included a broad cross-section of prices. This will help you stay within your budget. (Click on any image for more details. Click on the Christmas card to the right to go to Wisconsin Harley-Davidson's webstore).

First, the Ladies
Want something totally feminine, glamorous, and elegant? Take it from history that earrings are an important part of a women's clothing ensemble. They date back thousands of years because they accentuate the face. And dangle earrings such as these add a youthfulness that never misses. These earrings feature a mixture of precious sterling silver and Mother of Pearl. With a triple-drop, the dangle is perfect at about 1.5-inches. It starts with a sterling silver stud, linked to a filigree link, then a soft white pearl, and finally an open Harley-Davidson Bar & Shield. The sterling silver sets off the pearl, bringing out the luminous sheen. They are dainty, sexy, and totally feminine. They'll fit in with any dressy or casual occasion, even work. With a price tag under $60 they are affordable, too. Because these are made by MOD Jewelry Group, Inc., there is no doubt about their quality. Harley-Davidson® Women's Earrings, Filigree Bar & Shield Mother of Pearl HDE0362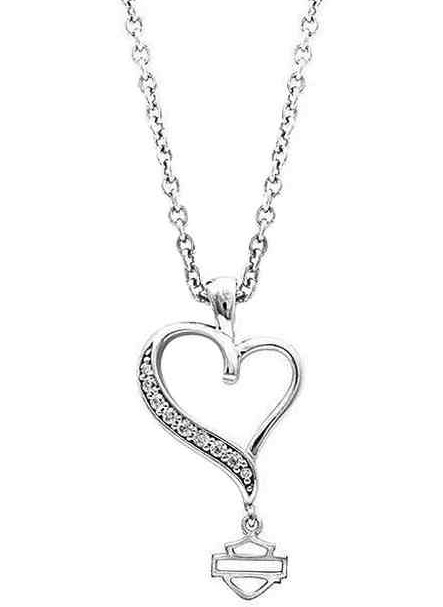 The famous French writer Guy de Maupassant knew how important a necklace can be to a woman - he wrote about it in his famous short-story, The Necklace. Make no mistake about it, it is perhaps the most important accessory a woman can have. So, you can't go wrong going down the necklace road. And this one is beautiful. Bright crystals embellish this sterling-silver pendant necklace in the shape of the heart. Connected to an 18-inch chain, the heart has a dangling Harley-Davidson open Bar & Shield which makes subtle statement all on its own. Yes, I am woman, and yes, I'm a Harley enthusiast. Priced under $90, these won't break your budget. Harley-Davidson® Women's Necklace, Embellished Rebel Heart, Silver HDN0315-18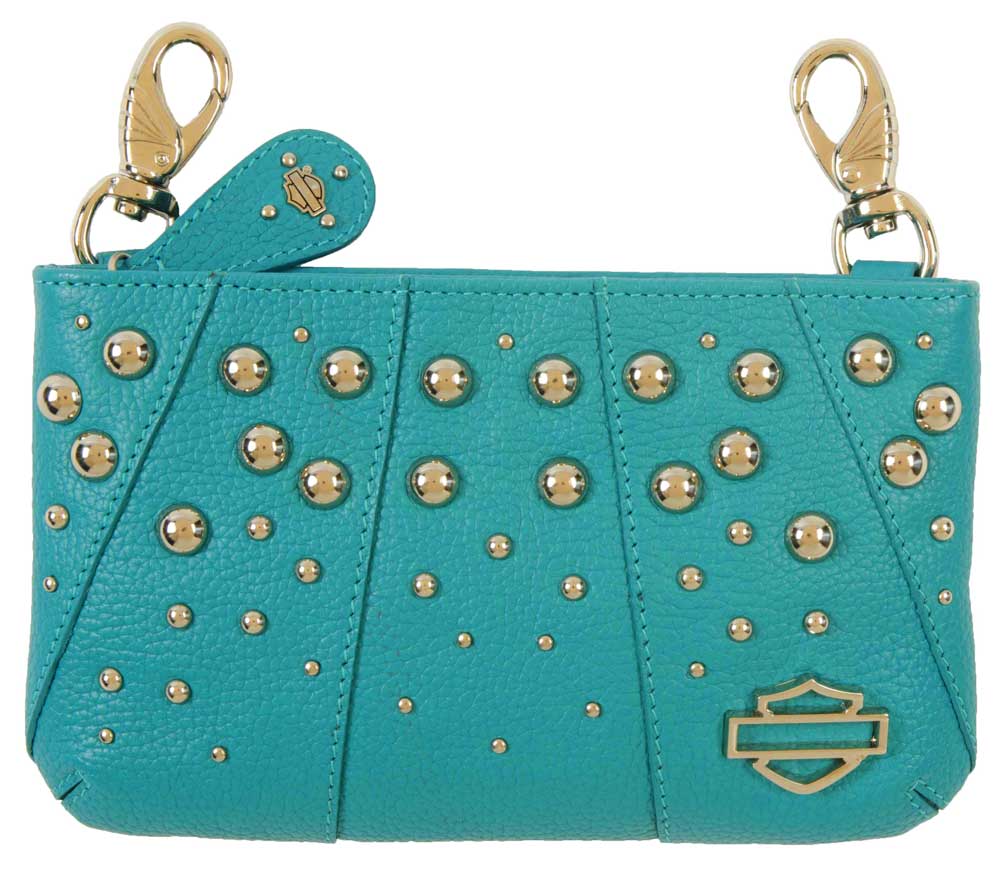 For cutting-edge fashion, belt bags are increasingly important accessory. Here is an ultra-glamorous belt bag made from pebbled to-grain leather. It is dyed with an eye-catching teal or turquoise. Its size is functional at about 7 X 4-inches. A zipper pocket secures valuables. The best feature is that it comes with a removable cross-body strap, so the bag can be worn as a hip-bag or carried as a purse. The bag is embellished with domed studs of various sizes. A dainty Bar & Shield silhouette logo is placed at the lower right corner. The inside is lined with a purple dagger lining to keep things interesting. Moderately priced at under $50, she will love the unusual design and the versatility: carry it as a clutch, over the shoulder or snap it to the belt. Harley-Davidson® Women's Bar & Shield Dome Studded Leather HipBag, RD9000L-TEAL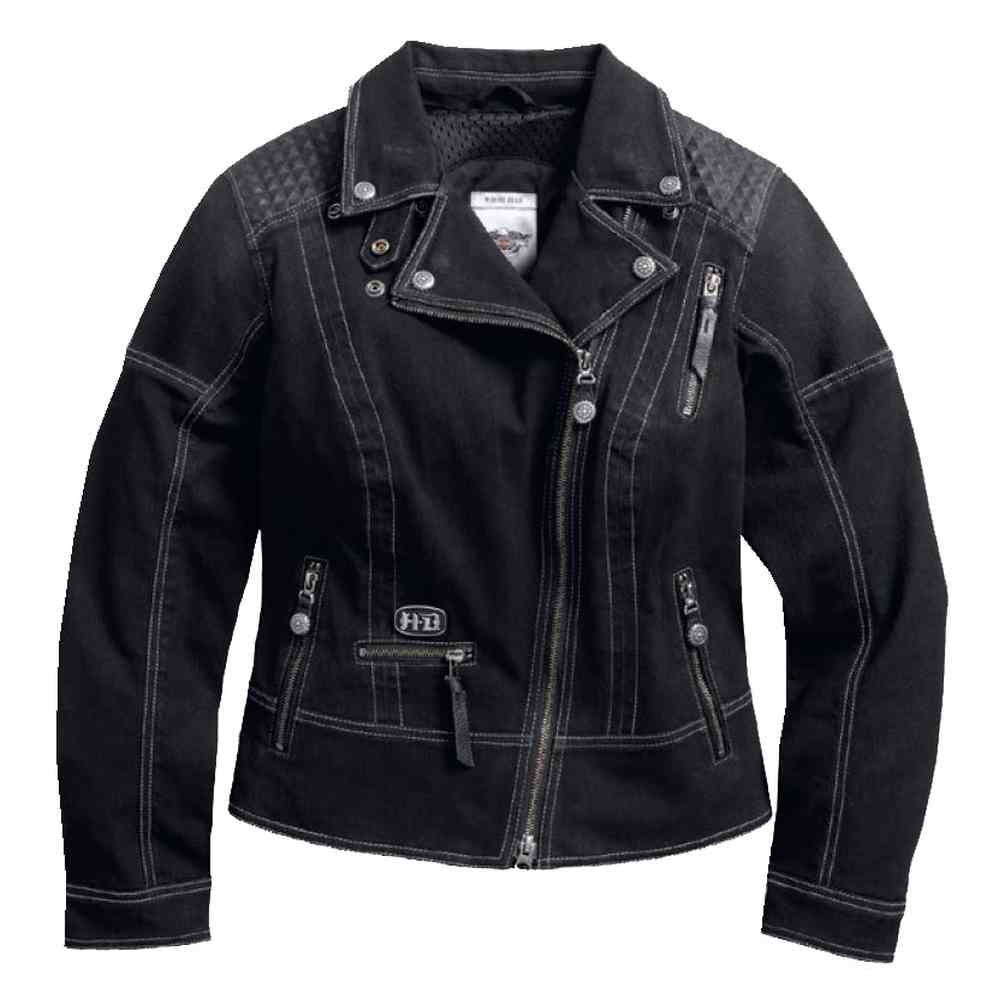 This is a jacket to wear when she needs to turn-up the collar against the wind and cold of winter. And remember, astronomical winter only starts on December 21st, so this makes a great gift for those cold and blustery months of January and February. Cut from a cotton/spandex blend, this jacket is coated with a polypropylene coating to keep her dry in all-weather situations. The body is lined with a polyester mesh, and the sleeves have a hi-end taffeta lining she'll love. The jacket has a definite biker vibe. It's vented, has an action back, contrasting stitching and is embellished for a feminine look. There are embroidered graphics, pockets and zip tabs. If she is looking for a classic moto styled jacket, this could be the one. Harley-Davidson® Women's Specter Coated Denim Riding Jacket, Black 97160-17VW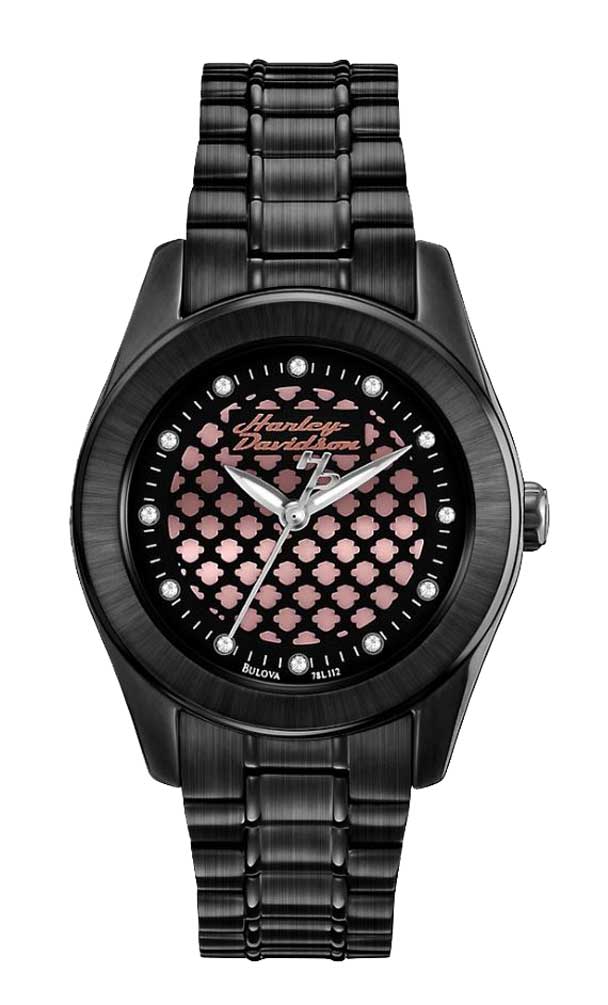 Sometimes using the word handsome to describe something for the ladies is the right word. As it applies to a woman, I think it describes something that is beautiful and feminine, yet strong - just like this watch. Here is a perfect gift for any lady that loves the biking world. It's an ion-plated black stainless-steel watch and from Bulova's Step & Repeat Collection for women. The dial is black with a pink Bar & Shield repeating pattern. A feminine Harley-Davidson script is placed just under the 12 o'clock crystal marker. It has a safety clasp and is right sized for a women's wrist. The price at under $90 means you might have enough money left over for another gift. Harley-Davidson® Women's Watch, Rose Gold Dial, Stainless Steel Case, Black 78L112
My final selection for the ladies. It's a simple tri-fold wallet. It's perfectly sized at just under 7-inches to fit in most
purses, and it's made with leather, featuring a weave finish. There is a metal badge with Harley-Davidson written in a gorgeous script. There plenty of card slots and pockets for coins and cash. Priced under $55, we think this is definitely worth considering. Harley-Davidson® Women's Basket Weave Embossed 7" Tri-Fold Wallet. ZWL9872-BLACK
Now the Gents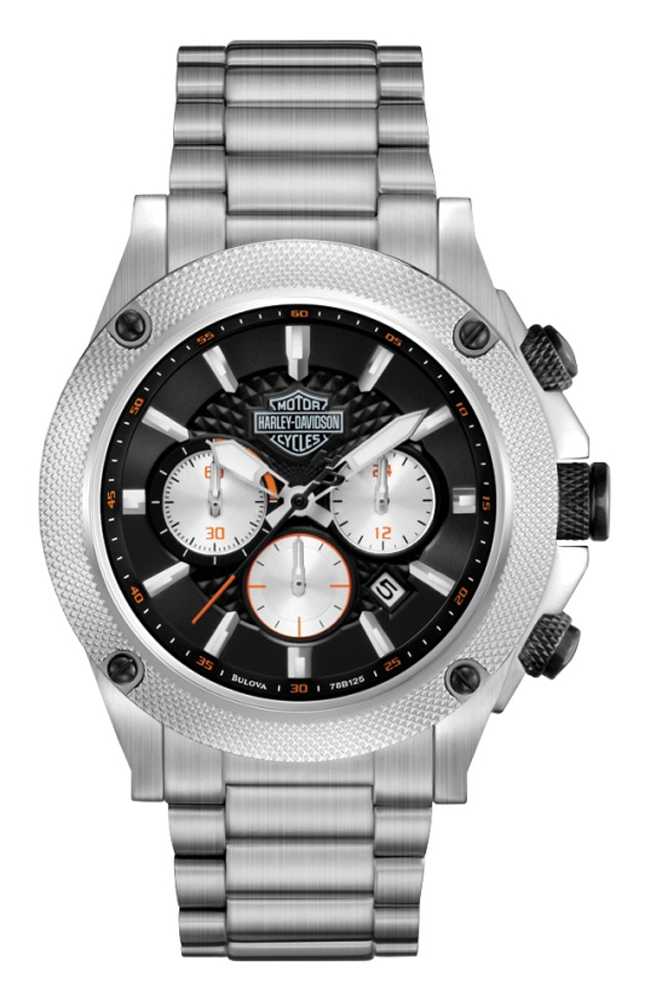 We already know you thought about getting a watch for you special guy. So, we start off with a great selection from the hundreds of choices you have. Let's get quality into the conversation. This is a Bulova watch made for Harley-Davidson. This watch is part of Bulova's Top Grip Collection. It's a chronograph with a beefy 42mm dial along with three sub-dials. It's handsome and its functional. It's water resistant so can't be easily ruined. We think it might be just the watch you are looking for. Two great names, Harley-Davidson and Bulova combine for the perfect gift. Reduced in price to under $100 for Christmas. Harley-Davidson® Men's Bulova Silver Tone Chronograph Wrist Watch. 78B126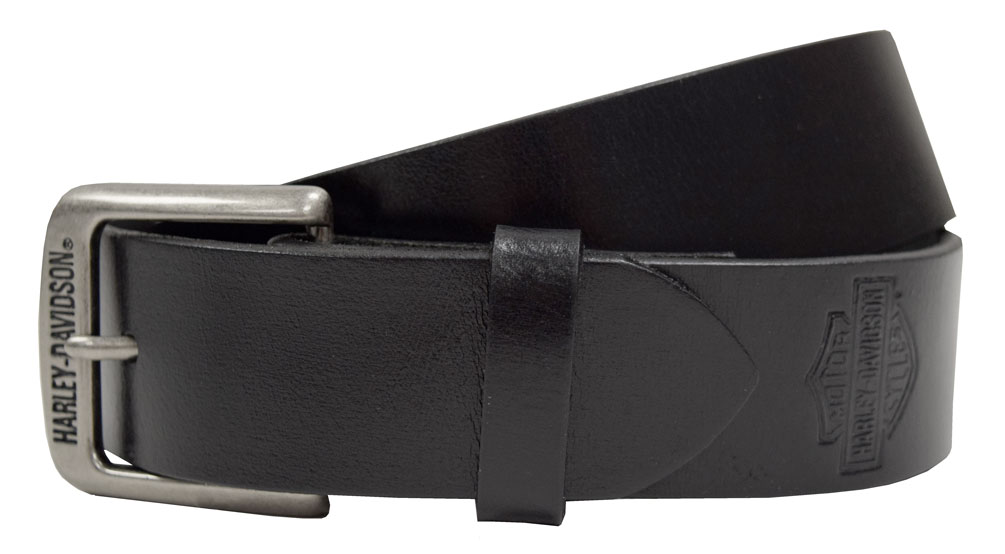 Here is an unpretentious leather belt that he'll want to wear for years. It's handsome and has just enough "Harley". However, don't be fooled by this belt's simplicity, it is tough and ready for the ride. It has a Harley buckle and is embossed with the Bar & Shield logo. And the quality stands up to Harley's high standards. With a size range up to 44-inches, the big guys are covered too. Another bonus is that the buckle is interchangeable. So, if he needs a new belt and doesn't want to part this is old buckle, this will do the trick. The belt's width is the standard 1.5-inches. At something under $25, this is one for the stocking for sure. Oh, almost forgot. It's made in the USA! Harley-Davidson® Men's Engraved H-D Genuine Leather Belt, Black. HDMBU11276-BLK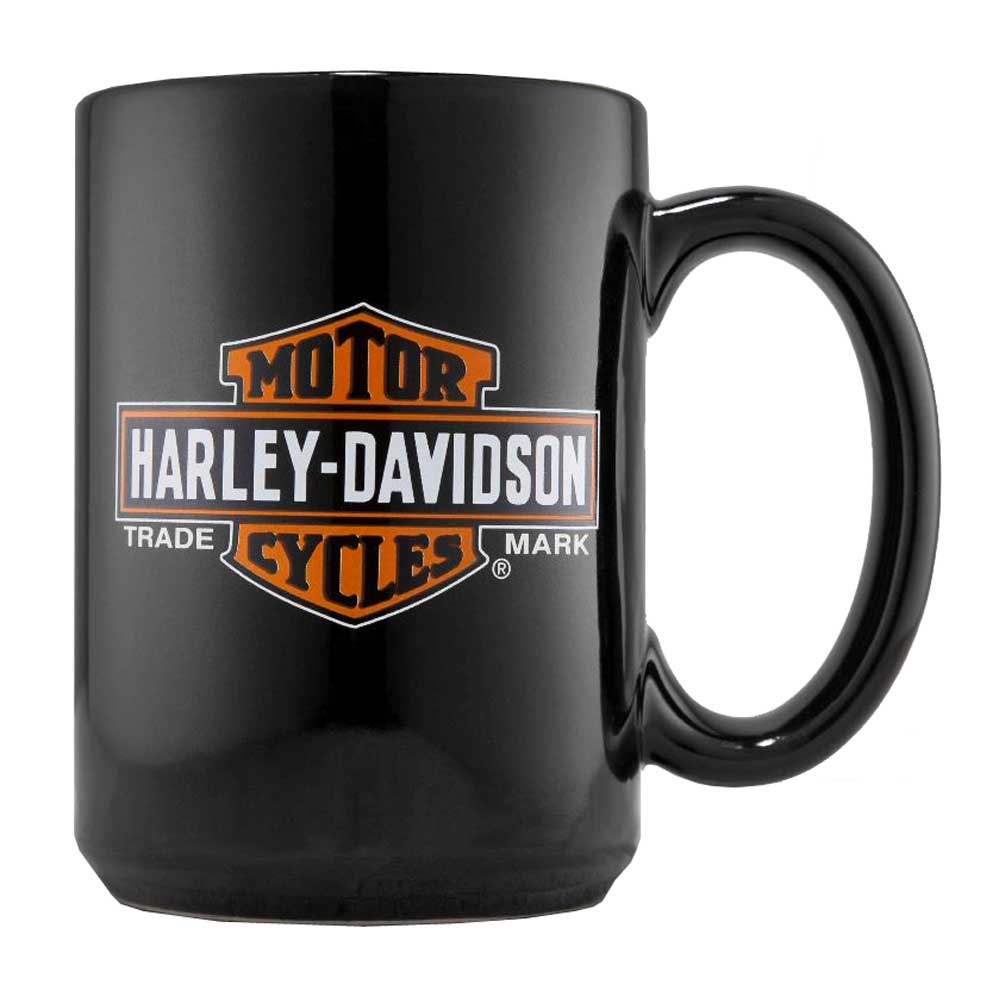 I'm going to call this selection our "Play-it-Safe option," or the "Just-One-More-Thing" for the stocking option. Either way, this can't miss: A coffee mug. All black with the quintessential orange Bar & Shield logo, this mug is probably the most basic need in every man's life: a man-sized, 15-oz mug for coffee, tea, warm milk, or dare we even say spirits? Anyway, at under $15, this is a no-risk idea and deserves your consideration. One thing is for sure, a man can never have too many Harley mugs. Harley-Davidson® Trademark Bar & Shield Logo Ceramic Coffee Mug 15 oz. 99213-16V
Now, it's time to talk jackets. This is one of the most popular of Harley-Davidson leather jackets. It's known as the Victory Lane Jacket. Its appeal has to do with the fact that it's made with vintage distressed leather. This means that each jacket is a "one-of-a-kind." And, it has everything. It's mid-weight for great protection, has armor pockets (the armor is purchased separately), and has an action back, pre-curved sleeves, and zippers at the cuffs. It's comfortable and ready to go anywhere from the minute you first put it on. Best of all it has the distinctive Harley chest strip. Did I mention it also has embroidered graphics? This is an expensive selection, sorry to say. But, it'll be a jacket for him and for the ages, as they say. If you have a higher priced item in mind for that special guy, this could be it. Harley-Davidson® Men's Victory Lane Leather Jacket. 98057-13VM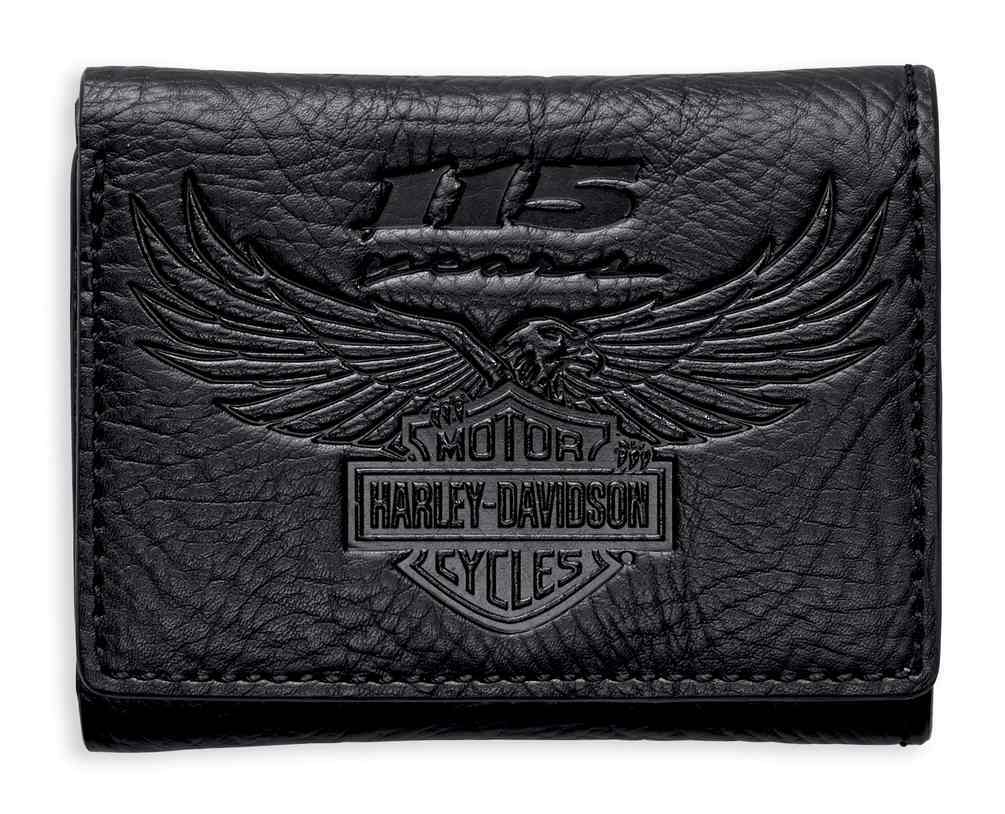 Don't be accused for lacking imagination when you give a wallet. It's not a cop out when you consider this one because of several reasons: It's truly a biker's chain wallet, it's made in the USA, it's handmade with rich dark-brown leather, and it's got an embossed eagle. I also like it because the detachable chain is not too long and the wallet has snap closures. For something that even gets better with age, this is near the top of my list, and it's affordable, too. Biker Men's 6 in Embossed Eagle Head Antique Motorcycle Chain Wallet. AB412-40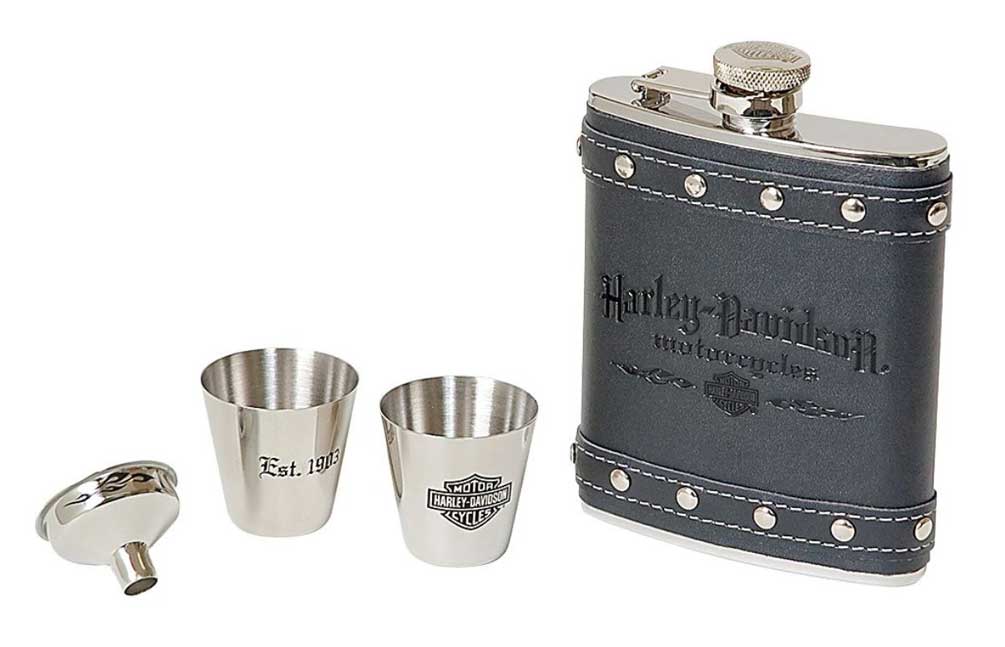 One thing to remember about Christmas gift giving is that the gift should be something the recipient wouldn't buy for him/herself – something personal. This flask gift set probably falls into that category – and who's to say it doesn't have lemonade in it anyway. This flask-set is quality all the way, made with polished stainless-steel, a leather jacket with a logo, a tethered cap that can't be misplaced, and two engraved shot glasses. There's also a funnel so there's no mess when filling the flask. When a long day on the road is done, this 8-oz flask will be a welcome friend at the campfire. Harley-Davidson® Motorcycle Flask Gift Set. HDL-18505
For Him or Her - Another way of saying, "For You!"
Here's an idea. Put your wrapped gifts in this beautiful Duffel Bag and put out under the tree, labeled, From Santa, To: _______. It's a great way to hide your gifts, and then you get to keep the Duffel too. This duffel is ready to go anywhere, made with polyester canvas with a color blocked Willie G Skull. Carry like a suitcase or throw it over your shoulder. Harley-Davidson® Deluxe Embroidered Bar & Shield Duffel Bag, Black 7189519
HAPPY HOLIDAYS
Well, there you have it, six ideas for the ladies and the gents in your life, and maybe one for yourself. Remember, if the ideas presented here don't match yours, search for something related. Maybe the jacket style is not to your liking. Remember, that there are many to choose from. And, be sensitive to shipping costs. Try to time your purchases so that you can get your bill over the free shipping amount, if one is offered. Wisconsin Harley-Davidson offers free shipping on purchases of more than $99. Shipping is an expense, but if you can get most things at once, you'll actually save enough on shipping to justify another gift or two. And one final thing - I wouldn't worry about getting it perfect. Remember, for people who truly value your friendship, it is the thought that counts. I know it's a trite phrase, but its been around for ages for good reason. Happy Holidays!
Get a group of Harley riders together and if the conversation turns to their favorite bike model, the opinions will fly. The opinions really fly when talking about helmet styles and the efficacy of even wearing one. While everyone wants to be heard, the lone question, "What should I look for in a boot?" gets ignored. For such an [...]
I've known many people over the years, and surprisingly, when the conversation turns to one's favorite season of the year, most of us say it's the fall. I'm not sure why – maybe it's the colorful leaves, a pause for reflection and recovery, or the approaching Holiday Season. But for those of us who [...]
I recently watched "Harley and the Davidsons," a six hour historical drama by the Discovery Channel about the most iconic brand of all time – Harley-Davidson. Shown in three, 2-hour segments, this is a drama worthy of watching. The reviews are positive, especially if you're a motorcycle enthusiast. It's a journey of discovery. I liked [...]
My favorite riding season is the fall. And for those of us that live in the northern USA, this is the last chance to ride through the countryside aflame with color. Once the snow flies, it's over until spring. For you that live more southerly, you get to ride another day! One thing is [...]
I'm not making judgments about your biking preferences, but I think you really should wear a helmet. There was a time when helmets were rarely worn. But we know better these days. Let's face it, riding a motorcycle is not a walk in the park. It has risks and studies have shown that motorcycle helmets do [...]